Located outside Dallas in Lewisville, Texas, The Cable Farm provides design and engineering services to oil drillers, cell phone service providers, companies that make clean water systems and any other business looking for effective problem-solving done at breakneck speed.
A year ago, the 24-employee company looked to enhance its quick-response capacity in one area—manufacturing. "Like every design facility, we had good relationships with machine shops," company founder Matt Merklein recalls, "but jobs were taking too long to produce. And rush jobs were very costly. We wanted the speed and control of vertical integration." The company created in-house manufacturing capabilities with the addition of a vertical milling center. The machine included a bonus that would prove itself well suited to The Cable Farm's work style: Gibbs SFP, a control-resident version of GibbsCAM CNC programming software from Gibbs and Associates in Moorepark, California.  Designed specifically for the shop floor and created for in-control use on PC-based controls, Gibbs SFP allows a user to import CAD models and develop CAM programs in a graphical (non-G code) user interface at the machine controller.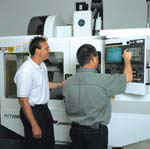 Company founder Matt Merklein and machinist Mike James ready another part for processing at The Cable Farm. The company has quickened part turnaround time by using GibbsCAM software to import CAD models and develop CAM programs at the machine controller.
The ease of learning and ease of use of Gibbs SFP was said to quickly prove itself. "I didn't even know what a machine could do when I bought that VMC," Mr. Merklein smiles. "I was impressed with the way Gibbs made everything so simple. You answered a few prompts, pressed a button, and the machine began to cut. To us, it was invaluable."
In 2 months, demand for the VMC had grown to the point where The Cable Farm hired a veteran machinist, Mike James, to handle programming and machining. Though Mr. James had never used GibbsCAM products before, he was quickly brought up to speed and was delighted at the software's process-based, machinist-friendly features. "When you import the file, it comes through clean," he says, "even with complicated CAD programs. I haven't found any files that GibbsCAM can't handle. Once the file is in, all you do is choose your tool, choose your process, click on the items you want to machine, and go. It's fast and uncomplicated. It helps me beat the clock."
Not long after Mr. James' arrival, The Cable Farm added a lathe to its growing machine shop.  The company contacted Texas Offline for a solution to upgraded its NC programming with an off-line seat of Virtual Gibbs. Jason Heyse, President of Texas Offline showed how GibbsCAM had the total shop resolution with the SolidSurfacer , Turning and Advanced Milling Options. This version of GibbsCAM provides integrated manufacturing modeling and three-axis machining of surface and solid models. In addition to allowing The Cable Farm to program its mill and lathe from a nearby PC, SolidSurfacer's abilities to perform 3D solid modeling provided the company with a new sales tool.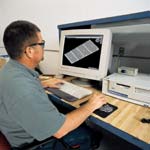 Machininst Mike James uses GibbsCAM to quickly turn CAD files into machine code. He finds that the software helps save time and scrap because mistakes are obvious when he renders a tool path.
"We've always dazzled our customers with our designs," says Mr. Merklein. "Now I have something else to dazzle them with. I bring them in to see the part we designed, and then I show it in 3D format, displayed in GibbsCAM, as the machinist is previewing the tool path. This just blows them away."
For Mike James, 3D models are more than sales tools. With a feature called Cut Part Rendering, he practices his cuts before he goes to metal. "That's the best safety blanket I have!" he exclaims. "I use it all the time. After I've programmed a part, I just follow my tool path on a model. If I'm getting too close to a vise chuck or cutting too deep, there'll be red highlighting on the screen."
The feature has also been helpful in reducing scrap. Mr. James remembers how he used to discover programming errors: "When you do G-code programming on a machine, you find your mistakes by running the part," he recounts. "That's the dumb way. With GibbsCAM, you see any mistakes when you render your tool path. You definitely notice the difference in the scrap you don't produce." Cut Part Rendering also saves time. "That is, by far, the feature I get the most use out of. Some of our deadlines are so tight, I couldn't hit 'em without it."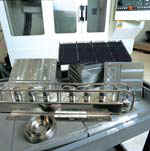 An array of parts produced at The Cable Farm.
Another function that trims turnaround time is knowledge-based machining, especially at the lathe. "Lathe geometry is something you just have to get right," he says. "Used to be, you'd have to commit all your settings and machine moves to memory. But now, I don't have to go through that. Once I've designed the part geometry, I just select what kind of process it is—roughing, finishing, whatever—and save it. Whenever I need it, I click it on. If I want to rough an OD, for example—click! And all the information is right there. I can refer back to it whenever I need to. Knowledge-based machining cuts out a lot of busy work for me."   Texas Offline's superior technical support has been an invaluable tool with their constant reinforcement and training.
The Cable Farm is active in making components for cellular phone towers. Much of the transmission equipment in these towers is developed by the cellular provider. But there are other components and systems essential to the installation that are outside the high tech package. It is in the design and manufacture of these components and systems that The Cable Farm has firmly established a niche. "These are very mainstay, established products," Mr. Merklein explains. "They've been around for 30 years. Sometimes, companies never consider changing the design of these things. When we meet with their engineers, we say, 'But what if we can make this housing lighter, or this filter tube stronger, or this system easier to manage?' And then, lights go on in their eyes. Pretty soon we're showing them improvements on a 3D model. They see how we can help them in ways they never dreamed about." This partnering attitude has helped The Cable Farm build its business, and providing quick turnaround helps keep it.