Gibbs and Associates announced today that it is now shipping GibbsCAM 2010 to all Maintenance Customers in January. This new release includes multiple new features, additions, enhancements, and productivity tools.
"We have been working very hard to provide customers new functionality across the GibbsCAM product family," says Bill Gibbs, founder and president of Gibbs and Associates. "We added many capabilities to make programming and machining easier and more efficient, especially with new features in 5-axis and solids machining. We also implemented 64-bit operation to enable faster processing of long programs and complex parts, added support for new tools and tool holders, extended functionality within various modules, and extended and updated interoperability with various CAD systems," he adds. "All this is in addition to the recent integration of VoluMill™ and making GibbsCAM compatible with the Windows® 7 operating system."
GibbsCAM 2010 began shipping to new customers and maintenance customers in January 2010.
Key GibbsCAM 5-axis Enhancements
These include more spiral machining options, new gouge check projection options, a new lead in/lead out "flip" option, a new axial shift damp option for trimming applications, and support for countersink and keyway cutters. More specific additions are the following: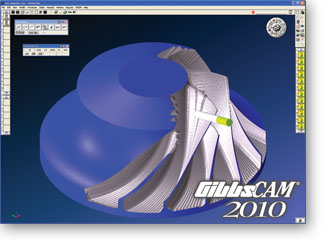 Geometry Creation – A Surface Tools plug-in has been added to create surfaces for repairing or improving machinability of surfaces from solids.
Adaptive Cuts – This new option enables regulating the distance between paths based upon the angle of the surface to be machined to provide a consistent surface finish, regardless of surface angle.
Impeller Roughing – Has been enhanced with functionality that covers more contingencies, especially useful when roughing near and around splitter blades.
Tool Retraction – A new option, Retract Through Tube Center, enables retracting cutting tools from angled pockets while avoiding walls, especially useful for machining cylinder head ports and similar geometry.
Key Enhancements to Solids Machining
New, More Capable Plunge Roughing – No longer a plug-in, it is a tile in the CAM palette, with the ability to calculate material removal strategies that accommodate carbide-inserted drills, which require special motion for no-drag retractions, while avoiding collision in tight or narrow areas.
Enhancements to Advanced 3D Machining – These include the addition of Hit Flats with specified tools for Pocketing, the ability to specify flatness tolerance in Flats Cut to ensure all desired "flat" areas are machined, locking high feed rate for Shortest Route and Minimal Vertical retract styles, addition of Trim to Ramp Advance as a Contour option for waterline cuts, specifying surface finish with step-over distance or scallop height parameters, and using Stock Bounding Box as an additional machining boundary.
Addition of Option for Stock – Facet bodies, generated from a previous machining process, or brought in through a data file, can now be used as initial stock in solid pocketing.
64-bit Implementation
A significant development, the 64-bit implementation allows taking advantage of the more powerful, multi-processor PCs equipped with 4GB or more of RAM. This provides tighter interoperability with 64-bit CAD systems that are co-resident with GibbsCAM on a PC. Also, 64-bit operation reduces computation time when processing extremely long programs or working with complex geometry. It will also enable users to take advantage of system enhancements when running under the Windows 7 operating system.
Even More Enhancements
GibbsCAM 2010 includes many more features, some for ease of use, and others to extend functionality, including enhancements to the user interface and for the Milling, MTM (multi-task machining) and Wire EDM modules, as well as new add-ins for data exchange to support Inventor 2010, SolidWorks 2010, and additional CAD file import and translation. Furthermore, the Macros menu was enhanced with changes for easy access, uninterrupted operation, and support for 5-axis and Advanced 3D processes and calls to plug-ins.
About Gibbs and Associates
For over twenty five years, Gibbs and Associates has been a leader in providing cutting edge CAD/CAM technology, while maintaining its signature ease-of-use and productivity. Powerfully Simple, Simply Powerful is the guiding philosophy at Gibbs. Gibbs believes in empowering the NC programmer, machinist, and manufacturing engineer, not eliminating them. Gibbs' goal is to introduce manufacturers to new technologies and new ways of working that makes their machining easier and their businesses more profitable. To achieve this goal, Gibbs creates tools that are naturally intuitive, graphically interactive, extremely visual, associative, and just plain enjoyable to use. Gibbs provides a total quality solution with the service and support successful customers require.
The current GibbsCAM product line supports 2- through 5-axis milling, turning, mill/turning, multi-task simultaneous machining and wire-EDM. GibbsCAM also provides fully integrated manufacturing modeling capabilities that include 2D, 2.5D, 3D wireframe, surface, and solid modeling. GibbsCAM has received Microsoft's "Designed for Windows XP/2000" and "Works with Windows Vista" certifications. GibbsCAM's data exchange capabilities are able to access the broadest range of native and industry standard CAD data formats. GibbsCAM is certified under the Autodesk Inventor Certified Application Program, is a Solid Edge Certified Select Product, and is a SolidWorks Certified CAM Product. GibbsCAM is either offered or endorsed by a number of leading worldwide control and machine tool manufacturers, including GE Fanuc, Infimatic, Siemens, Doosan Infracore, Haas, Index, MAG Fadal, Mazak, Mitsubishi, Mori Seiki, and Tornos.